Customers who bought this also bought
Have a question?
About this item
George Harrison remembers:
"I bought the Hare Krishna album in 1968 and John Lennon and I listened to it. I remember we sang the Hare Krishna mantra for days, John and I, with ukulele banjos, sailing through the Greek Islands chanting. Like six hours we sang, because we couldn't stop chanting once we got going. As soon as we stopped chanting, it was like the lights went out. It went on to the point where our jaws were aching, singing the Hare Krishna mantra over and over and over and over and over. We felt exalted; it was a very happy time for us.
"I always felt at home with Krishna. You see it was already a part of me. I think it's something that's been with me from my previous birth. When the Hare Krishna movement came to England that was just like another piece of a jigsaw puzzle that was coming together to make a complete picture. It had been slowly fitting together. That's why I responded to the Hare Krishnas the way I did when they came to London.
"Let's face it. If you're going to have to stand up and be counted, I figured, 'I would rather be with these guys than with those other guys over there.' It's like that. I mean I'd rather be one of the devotees than one of the straight, so-called sane or normal people who just don't understand that man is a spiritual being, that he has a soul. And I felt comfortable with the devotees also, too, kind of like we'd known each other before. It was a pretty natural thing, really.
"I used to sing the Hare Krishna mantra long before I met any of the devotees or long before I met Prabhupada, because I had his first record then for at least two years. When you're open to something it's like being a beacon, and you attract it. From the first time I heard the Hare Krishna chanting, it was like a door opened somewhere in my subconscious, maybe from some previous life.
"Srila Prabhupada, the guru of the Hare Krishna movement told me once that we should just keep chanting all the time, or as much as possible. Once you do that, you realize the benefit. The response that comes from chanting is in the form of bliss, or spiritual happiness, which is a much higher taste than any happiness found here in the material world. That's why I say that the more you chant Hare Krishna, the more you don't want to stop, because it feels so nice and peaceful.
"Like I said in the introduction I wrote for Prabhupada's Krsna, The Supreme Personality of Godhead some years ago, 'If there's a God, I want to see Him. It's pointless to believe in something without proof, and Krishna consciousness and meditation are methods where you can actually obtain God perception.'
"Everybody is looking for Krishna. Some don't realize that they are, but they are. Krishna is God, the Source of all that exists, the Cause of all that is was, or ever will be."
You can also experience the same inspiration the Beatles and George Harrison experienced with this special package:
Krsna, The Supreme Personality of Godhead -- The life story of Krishna's appearance and pastimes when He was present on this planet 5,000 years ago in India. A beautiful 750 page book with more than one hundred full color paintings. [the first printing of Krnsa Book was financed by George Harrison and he wrote the foreword]
Krsna, The Reservior of Pleasure -- a booklet exploring the real source of all pleasure and satisfaction.
Chant and Be Happy -- a book exploring the power of Mantra Meditation. Includes an interview with George Harrison and a conversation between Srila Prabhupada, John Lennon, Yoko Ono and George, along with a practical guide to performing Mantra Meditation.
Hare Krishna Tribute to George Harrison DVD
When George Harrison was asked why he produced the Radha Krishna Temple Album record performed by the devotees of the London Radha Krishna Temple and recorded on the Beatles "Apple" record label he replied:
"Well, it's just all a part of service, isn't it? Spiritual service, in order to try to spread the Hare Krishna mantra all over the world. Also, to try and give the devotees a wider base and a bigger foothold in England and everywhere else."
The Radha Krishna Temple Album record was very successful. It contained two tracks that were released as singles and both of them reached the number one position in the music charts in England and many other countries. When George was asked what he thought of the success of the Radha Krishna Temple Album compared to the success of the records of other artists like Jackie Lomax, Splinter, and Billy Preston who he was also producing at the time he replied:
"It was a different thing. Nothing to do with that really. There was much more reason to do it. There was less commercial potential in it, but it was much more satisfying to do, knowing the possibilities that it was going to create, the connotations it would have just by doing a three-and-a-half-minute Hare Krishna mantra single. That was more fun really than trying to make a pop hit record. It was the feeling of trying to utilize your skills or job to make it into some spiritual service to Krishna."
"I figured this is the space age, with airplanes and everything. If everyone can go around the world on their holidays, there's no reason why the Hare Krishna mantra can't go a few miles as well. So the idea was to try to spiritually infiltrate society, so to speak. After I got Apple Records committed to the Hare Krishnas and the record released, and after our big promotion, we saw it was going to become a hit.
"One of the greatest things, one of the greatest thrills of my life, actually, was seeing the Hare Krishnas all on BBC's Top of the Pops. I couldn't believe it. It's pretty hard to get on that program, because they only put you on if you come into the Top 20. It was just like a breath of fresh air. My strategy was to keep it to a three-and-a-half-minute version of the Hare Krishna mantra so they'd play it on the radio, and it worked. I did the harmonium and guitar track for that record at Abbey Road studios before one of the Beatles' sessions and then overdubbed a bass part. I remember Paul McCartney and his wife, Linda, arrived at the studio and enjoyed the mantra.
"At that time, nobody was committed to that type of spiritual music in the pop world. There was, I felt, a real need for that, so rather than sitting and waiting for somebody else, I decided to do it myself. A lot of times we think, 'Well, I agree with you, but I'm not going to actually stand up and be counted. Too risky.' Everybody is always trying to keep themselves covered, stay commercial, so I thought, just do it. Nobody else is, and I'm sick of all these young people just boogeying around, wasting their lives, you know. Also, I felt that there were a lot of people out there who would be reached.
"I still get letters from people saying, "I have been in the Krishna temple for three years, and I would have never known about Krishna unless you recorded the All Things Must Pass album." So I know, by the Lord's grace, I am a small part in the cosmic play. -- George Harrison 31/3/1970
This special package will allow you to personally experience the spiritual force that moved the Beatles and George Harrison for yourself. It includes the book Krsna, The Supreme Personality of Godhead for which George paid the full cost of printing the first edition in 1970, Chant and Be Happy with a practical introduction and guide to the power of Mantra Mediation and conversations with John Lennon, George Harrison, Yoko Ono and Srila Prabhuapda, the guru of the Hare Krishna movement. As a special bonus we are also including the booklet: Krsna, The Reservoir of Pleasure.
| | | |
| --- | --- | --- |
| | "I request that you take advantage of this book KRSNA, and enter into its understanding. I also request that you make an appointment to meet your God now, through the self liberating process of YOGA (UNION) and GIVE PEACE A CHANCE." | |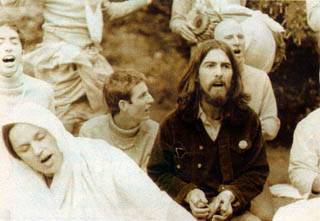 George Harrison Chanting Hare Krishna With Devotees From the London Temple
Customer Reviews
I bought this book and package for a friend just now learning about Krishna Consciousness. We are both very appreciative of this wonderful presentation of Srila Prabhupada's original , unadulterated c... Read more I bought this book and package for a friend just now learning about Krishna Consciousness. We are both very appreciative of this wonderful presentation of Srila Prabhupada's original , unadulterated contribution to the science of understanding Krishna and our eternal relationship with Him. Thank you so much for preserving and distributing this priceless gift to the world! you so muchRead less
Great purchase, amazing read, and the CD has been on repeat. Love it!!!Great purchase, amazing read, and the CD has been on repeat. Love it!!!Read less
Thank you very much for sending this wonderful Krishna collection to me. A lovely way to remember George Harrison and Krishna and the happiness they shared with us all.Thank you very much for sending this wonderful Krishna collection to me. A lovely way to remember George Harrison and Krishna and the happiness they shared with us all.Read less
Very nice items for George Harrison fans. Many thanks!Very nice items for George Harrison fans. Many thanks!Read less
Hare' Krishna to all! Every thing with my purchase went fine! I enjoyed my pictures that I ordered and my friend who i bought copies for loved them also. Service was good fast and it is a pleasure doi... Read more Hare' Krishna to all! Every thing with my purchase went fine! I enjoyed my pictures that I ordered and my friend who i bought copies for loved them also. Service was good fast and it is a pleasure doing business with the Krishna store and i would encourage every one to take a good look at all the items on their website and order! You won't be disapointed! Lots of great stuff to choose from and love the selection of books and pictures.. Jay..Read less