Customers who bought this also bought
Have a question?
About this item
The topmost reason of the glorification and reverence of Laddu Gopal is his childhood pastimes.
So on this festival of Janmastami bring this little Ladu Gopala to your home and add on auspiciousness.This Laddu Gopala is brass poured deity, hand carved with love and devotion.
This is beautifully carved design makes it opulent and gives a precious look. Ladu Gopal can be used as a birthday gift, anniversary gift, occasion gift, house warming gift, devotional gift, surprise gift, etc.
Laddu Gopal Deity Measurements
Laddu Gopal Deities are measured vertically as the image below demonstrates.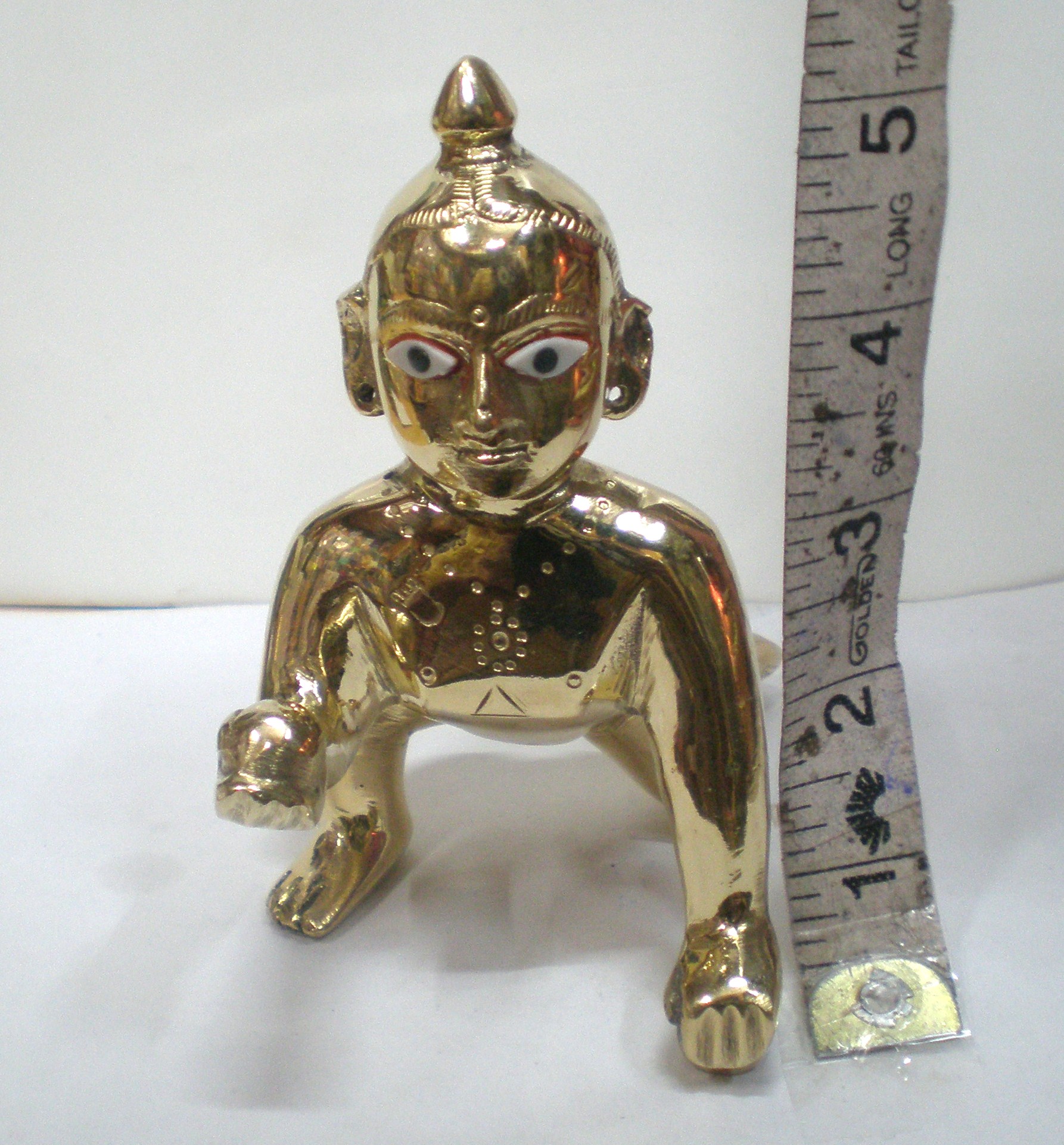 Customer questions & answers
Q:

If i order dress also with diety, will accesories like mukut and jewellery will also come?

A: No, only the dress is included with this option.No, only the dress is included with this option.see less
Customer Reviews
Most beautiful laddu gopal i've ever seen.. I ordered 3 pairs of dresses n crown also for him.. Thank you Krishna store!!Most beautiful laddu gopal i've ever seen.. I ordered 3 pairs of dresses n crown also for him.. Thank you Krishna store!!Read less
Jai Shree Krishna...Really wonderful, the idol is having beautiful features , and unexpectedly beautiful.Jai Shree Krishna...Really wonderful, the idol is having beautiful features , and unexpectedly beautiful.Read less
Laddu Gopal arrived at my house in a very timely fashion. He is beautiful, and most sweet looking, and is a great addition to my altar. His relatively large size and beautiful eyes make it easy to med... Read more Laddu Gopal arrived at my house in a very timely fashion. He is beautiful, and most sweet looking, and is a great addition to my altar. His relatively large size and beautiful eyes make it easy to meditate on His sweet form. Jai Sri Radhe!Read less
Wonderful addition to our home. I agree with other reviewers, this is the best brass deity (quality) that I have ever seen. Very reasonably priced also. I would order this again if necessary, no quest... Read more Wonderful addition to our home. I agree with other reviewers, this is the best brass deity (quality) that I have ever seen. Very reasonably priced also. I would order this again if necessary, no question about it.Read less
Perfect size & if you buy a dress for this murti of baby Krishna - the quality and details are simply amazing! I received a very fluffy, good quality dress for my baby!Perfect size & if you buy a dress for this murti of baby Krishna - the quality and details are simply amazing! I received a very fluffy, good quality dress for my baby!Read less