Customers who bought this also bought
Have a question?
About this item
The three DVD set of "Little Krishna" is a result of seven years of painstaking research work, handpicked from the pastimes of Krishna, the most remarkable stories of the legendary prankstar in the Indian heritage. The episodes are narrated in a manner, engrossing enough to mesmerize the audience world over, and leave them spell-bound.
Little Krishna is the darling of Vrindavan, the land of peace and tranquility, which is constantly threatened by the malice of evil king Kamsa. While Krishna is busy with his endless pranks and mischiefs accompanied by his friends, Kamsa remains restless for he is aware that Krishna is his nemesis. As in the past, a prophecy had threatened Kamsa that his evil reign is over, and a savior will descend on earth to make Kamsa meet his worst adversity in life, which is his death. The only objective of Kamsa's life therefore, was to find his angel of death.
Sworn to see the end of Krishna, Kamsa relentlessly sends his trusted aids, the ferocious demons to Vrindavan in order to kill Krishna. But Krishna is born to be a savior as he crushes the deadly demons one after another with heroic poise.
While the episodes of "Little Krishna" capture an epic canvas on screen with the colossal battles of good against evil, it never misses to touch the emotional chord of the narrative. While lapping up the affection of his parents and the admiration of the common mass of Vrindavan, Krishna manifests his mesmerizing charms with his soulful enchanting flute that compels every living creature to dance to his tunes
Action, adventure, heroic valor, selfless deeds, emotional trysts, mischief's... all packaged in a compelling story telling underlines the hallmark of the "Little Krishna" series.
The 13 episodes of Little Krishna on this DVD set are:
DVD-1

The Attack of the Serpant King
The Terrible Storm
The Horror Cave
Enchanted Picnic
Fire and Fury
Demon in Disguise


DVD-2

Deadly Donky
Challenge of the Brute
Assult of the Lethal Bird
The Charge of the Monster Horse
The Mystery of the Vanishing Sheep
The Vicious Whirlwind
Witch Trap


Bonus DVD

1 hour special -- "The Making of Little Krishna"
Big Bees Song
The Bad Egg (animated short films)
3 Little Krishna DVD Movies

The Little Krishna series has also been released as three feature-length movies: Darling of Vrindavan, Legendary Warrior, and Wonderous Feats. These 3 DVD movies have the same stories as this 13 Episode Little Krishna TV Series 3-DVD set; they have just been arranged into 3 feature-length movies.
Note for US and other NTSC TV System Countries: The 'Little Krishna' DVDs are all-region, so they will play in any country, however they are in the PAL TV format. While many NTSC DVD players will also play PAL DVDs there are some NTSC DVD players that will not be able to play these DVDs. However the 'Little Krishna' DVDs can be played on all computers, all PAL DVD players and a large percentage of NTSC DVD players. Most of the very inexpensive NTSC DVD players [less than $20] can play PAL DVDs.
| | | |
| --- | --- | --- |
| | | Krishna |
| | | Krishna is India's most known super-hero across the globe. Krishna the super hero was destiny's child. He emerged at a time when the earth was tormented by evil forces and vicious demons. The peace and tranquility of common people was put onto test, when Krishna appeared as their savior. He came, he saw and he conquered the heart of entire humanity with his all encompassing love and unparalleled bravado. An innocent fun loving kid who used all his charms to play pranks against anyone and everyone. For him stealing butter from unsuspecting Gopis was as much a child's play as finishing off Kamsa's menacing cronies. The darling, the prankster, the savior – Krishna comes across as a wonder boy with his mesmerizing flute in one hand and the ultimate power to destroy evil on the other dressed up in his shining warrior armor, he is a timeless appeal, a favorite of kids and adults like beyond borders and genders. |
| | | Balaram |
| | | Balram was the elder brother of Krishna, extremely responsible and protective towards the well being of his younger brother and their entire group. He was Krishna's alter ego. Powerful and strong himself, known better as the most hailed wrestler in all of Vrindavan, he allowed Krishna to enjoy the privilege and credit for the heroic actions. He was an active partner in all the tom foolery that Krishna and his comrades indulged in Vrindavan. Though he was not the apparent leader but his presence was there to protect whenever the need arises. He was sensitive not only to his thoughts and feelings, but was the only one around who was aware about what Krishna was truly capable of doing, his prowess and his abilities. His confidence in Krishna and the amazing chemistry between the two brothers made their relationship a legend. |
| | | Madhumangal |
| | | An absolute comic relief, he was one of the closest buddies of Krishna with a voracious appetite. Madhumangal was best characterized by his unsatisfying craving for butter and his lazy demeanor epitomized in his bulky physique and paunch. He was hardly seen taking any initiatives, when it comes to taking any action, but was always the frontrunner in eating stolen butter. Quintessentially an opportunist but his unconditional love for Krishna endears him to the audience. |
| | | Subala |
| | | He was the conscience keeper of Krishna's troupe who would always warn before the group ventures out on any of its escapades. The youngest in the group, he was meek and hardly forceful about his beliefs and quick to submit before the decision of the group. He had a unique style of repeating the last two words of every sentence spoken by other members of the group which symbolizes the way he eventually acts- following what the rest of the group has decided. |
| | | Radha |
| | | She was the queen of the girlie group and a major contest for Krishna and his friends. She would often challenge Krishna as nothing but a prankster nullifying his superhero image. She was also the greatest obstacle for Krishna and his friends from stealing milk and butter. On the outside she was a tough cookie, but inside she was among the closest friends and well-wishers of Krishna. She herself was known to be a human incarnation of a divine power . |
| | | Vishakha |
| | | She was one of Radha's closest friends and a trusted follower. She accompanied Radha almost everywhere and was among her favorite playmate. She was also an ardent supporter of Radha when it came to stop Krishna and his friends from stealing milk and butter or support their playful rivalry. |
| | | Lalita |
| | | She was also among Radha's favorite friends and one of their unmistakable gang of three girls. She too loved Radha and always took her as their leader and supported in every possible way, whether its teasing Krishna or stopping him and his friends from stealing. |
| | | Hamsi |
| | | She was the playful calf and pretty much a part of Krishna's gang as one of his favorites. Her playful naughtiness often asked for scolding from Krishna but with a leap in her steps she would follow the gang everywhere not willing to be left out from their adventures. |
| | | Dadiloba |
| | | The stories can never be told in their true flavor without Dadiloba - the mischievous monkey and one of the closest followers of Krishna. They both seem inseparable and every time Dadiloba appears he creates a riot of fun around him. Trusted and proactive, he was among the frontrunners in the group when it comes to stealing butter and milk and hence quiet often we find him and Madhumangal teaming up for the pranks. |
| | | Nanda |
| | | He is the father of Krishna and also the village-chief of Vrindavan. Krishna was his eye candy. But being a sensible and able leader he was equally concerned and protective about his subjects. They would often get blessed with his generosity. One thing that kept him worried was Krishna's safety from King Kamsa and his battery of vicious demons. Every time they attacked, Nanda while tensed about the well being of his beloved son was also equally worried about his subjects who were in a constant danger of falling prey to those vicious demons. With every conquest, his paternal love could never fathom the true super hero that his son really was. |
| | | Yashoda |
| | | As the quintessential mother of Krishna, she was maternal love manifested. She could never see any fault in her beloved son and was always there to pamper him. No amount of complaints of Krishna from the neighboring ladies who had been subjected to Krishna's pranks will ever alter her immense love for Krishna. For her the entire world was around Krishna only. The demons and the threat on Krishna's safety would madden her with grief and concern. Even after accomplishing all the heroic acts Krishna would come back to his mother as the innocent child and Yashoda would hug and love him simply as her sweet little kid. |
| | | Kamsa |
| | | Evil arrogant king Kamsa, the main antagonist, was maternal uncle to Krishna in relationship. Destiny had it that Krishna will emerge as the angel of death for him. Terrified to face his own fall, Kamsa's fear for death turned him into a ruthless cruel ruler. To secure his own life it became pivotal for him to eliminate Krishna. With this malicious motive he relentlessly kept on sending his vicious cronies, the deadly demons one after another with the single motive of Krishna's death. Each one of his plans succumbed to failure as Krishna killed all the demons resulting in bolts of panic and frustration to Kamsa who could helplessly sense the approach of his angel of death. |
***PAL Format Information
PAL is the standard format for DVDs in most countries. The USA and Canada, however, uses NTSC as the main format. Therefore, some DVD players in the USA and Canada do not read disks the PAL format, but virtually all computers with DVD drives can read PAL. Check the users manual for your DVD player to see if it can read PAL format disks. Contact your local electronics store to see what inexpensive DVD players they may have that can read PAL DVDs.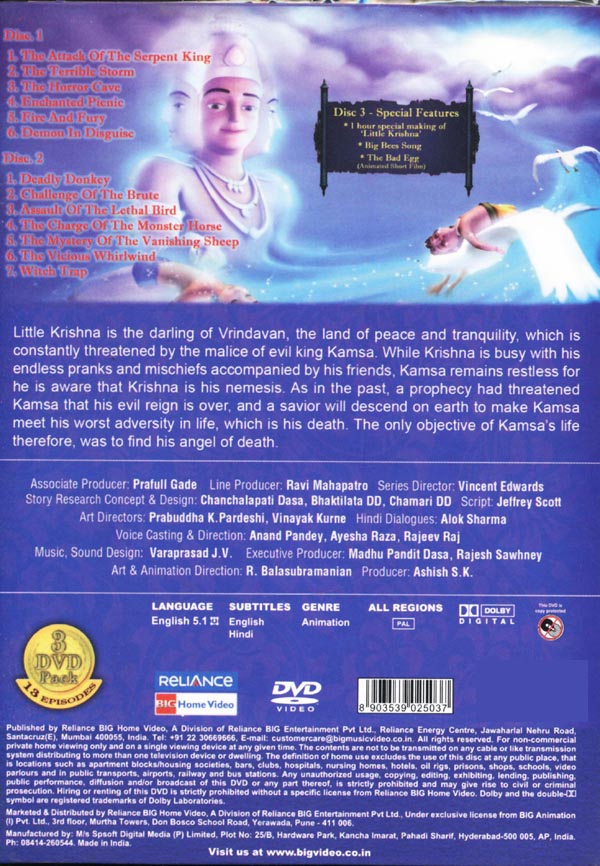 Customer questions & answers
Q:

Krishna air kans DVD Tamil version gokulathil kannan is required. How can I get that?

A: I am sorry but we are only selling the English audio version of this DVD set.I am sorry but we are only selling the English audio version of this DVD set.see less
Customer Reviews
I finally received my Little Krishna DVD and I'm so excited. Can't wait to start watching :-)I finally received my Little Krishna DVD and I'm so excited. Can't wait to start watching :-)Read less
Excellent Animation. Very well scripted and entertaining for the whole family.Excellent Animation. Very well scripted and entertaining for the whole family.Read less
Little Krishna TV Series 3 DVD Pack is the best gift you can ever get a child! Thank You Devotees!!!!!!!Little Krishna TV Series 3 DVD Pack is the best gift you can ever get a child! Thank You Devotees!!!!!!!Read less
I am very happy with this DVD-set of Little Krishna. The price is good and I had very lovely feelings when the little package was sent to me from India. Thank you very much.I am very happy with this DVD-set of Little Krishna. The price is good and I had very lovely feelings when the little package was sent to me from India. Thank you very much.Read less
Hare Krishna, Superb set on the Little Krishna Series.,perfect condition as always.Thank you so much very happy with this purchase. Hare Krishna!Hare Krishna, Superb set on the Little Krishna Series.,perfect condition as always.Thank you so much very happy with this purchase. Hare Krishna!Read less