Customers who bought this also bought
Have a question?
About this item
Based on Srila Prabhupada's Krsna, The Supreme Personality of Godhead and produced by ISKCON in conjunction with Reliance Big Animation, the Little Krishna television series was a hit on Indian television. The series has now been released as three feature-length movies: Legendary Warrior, Darling of Vrindavan, and Wonderous Feats.
These 3 DVD movies have the same stories as the 13 Episode Little Krishna TV Series 3-DVD set; they have just been arranged into 3 feature-length movies.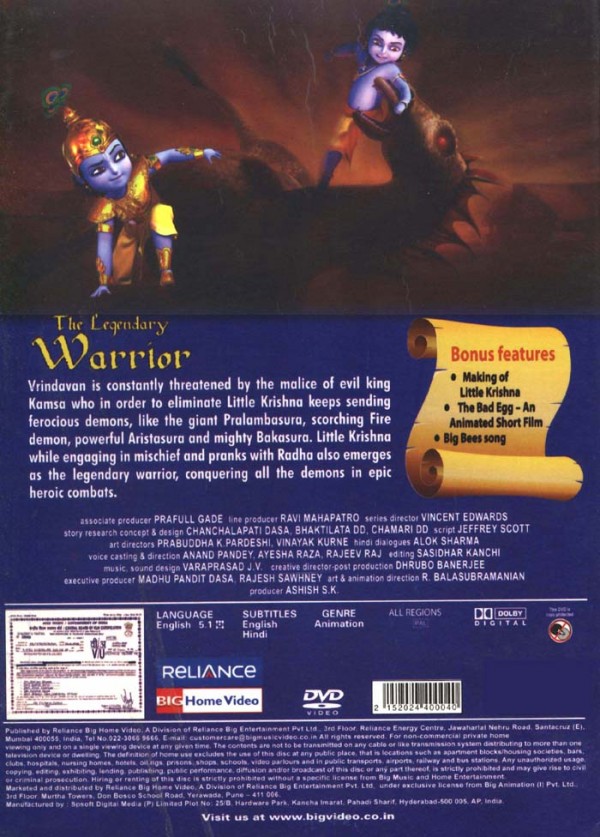 Note: This DVD is recorded in PAL format which is used in most countries worldwide however USA and Canada use NTSC format. Most NTSC DVD players are able to also play PAL DVDs but there are some which can not play these DVDs. However these DVDs will play in all computers worldwide.
Customer questions & answers
Q:

Can these dvds place in Uk?

A:

Yes, these DVD's should play in the UK without a problem.




see more

Yes, these DVD's should play in the UK without a problem.







see less
Customer Reviews
wonderful movie,I cannot stop watching,I can recommend that film everyone at every agewonderful movie,I cannot stop watching,I can recommend that film everyone at every ageRead less
Hari Bol!! Thankyou for the speedy posting!! Opening these special packages smells like the dust of Vraja!! Thankyou once again! Your Servent RosyHari Bol!! Thankyou for the speedy posting!! Opening these special packages smells like the dust of Vraja!! Thankyou once again! Your Servent RosyRead less
Haribol, Thank you so much, delighted with my purchase. Little Krishna is just brilliant, anyone can enjoy these. Hare Krishna!Haribol, Thank you so much, delighted with my purchase. Little Krishna is just brilliant, anyone can enjoy these. Hare Krishna!Read less
Items related to:
---
Customers who bought this item also bought