Customers who bought this also bought
Have a question?
About this item
There can be variances from necklace to necklace in the exact sizes of the Tulsi beads. The size of the silver caps and the amount of silver in the necklace determines the size classification of the nacklace more than the size of the Tulsi itself.
Sterling Silver Tulsi Necklace Bead Length Measurement

As shown in the illustration, the silver caps are considered part of the bead when measuring bead length. So the bead length is measured from the tip of the silver cap to the tip of the opposite silver cap.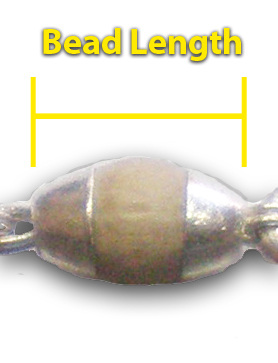 Customer questions & answers
Q:

Hare Krishna ! My question is whether those black tulsi beads are original tulsi beads? And what about authenticity of silver ?

A: Yes. Real silver and real tulsi beads...Yes. Real silver and real tulsi beads...see less
Customer Reviews
excellent product and happy to deal with you in futureexcellent product and happy to deal with you in futureRead less
Perfect packaging done with care. Perfect product that exceeded my expectations.Perfect packaging done with care. Perfect product that exceeded my expectations.Read less
I ordered 4 Silver Tulsi Necklaces: - 2 necklaces with medium beads, 1 black and 1 natural and - 2 necklaces with large beads, 1 black and 1 natural. They are B E A U T I F U L (see picture)! The ... Read more I ordered 4 Silver Tulsi Necklaces: - 2 necklaces with medium beads, 1 black and 1 natural and - 2 necklaces with large beads, 1 black and 1 natural. They are B E A U T I F U L (see picture)! The shipping took 5 weeks and they were shipped directly from India (to Germany), packed very well and safe. THANK YOU!Read less
Beautiful quality tulsi beads, great shop! Fast delivery, thank you Beautiful quality tulsi beads, great shop! Fast delivery, thank you Read less
The order did not take too long to arrive and was exactly as described.The order did not take too long to arrive and was exactly as described.Read less