Have a question?
About this item
The Epic TV serial 'Shri Krishna' sings the glories of Lord Krishna and is based on Srimad Bhagavatam Mahapurana.
The life of Sri Krishna is not a simple subject since His life-span is spread across the endless ocean of immortality and eternity.
Sri Krishna bhakti (worship) is embedded in the soul of India since millions of years and His image has been nourished by innumerable generations of the common man.
Krishna DVD - Episodes 1- 6 Main Sources: Shrimad Bagavata Mahapurana, Brahma, Brahma Valvart Purana, Garga Samhita, Agni Purana, Markandaya Purana, Harivansh, Vishnu Purana, Shri Padma Purana.

Krishna DVD - Episodes 7 to 14: Incarnation of Bhagavan Parshurama and Shri Rama. Demigods pray to Lord Krishna. Narada beholds the divine vision of Radha Krishna. Kamsa in the court of Maharaj Ugrasena. Marriage of Devki and Vasudeva. Kamsa imprisons his sister Devaki on hearing the divine proclamation. King Ugrasena orders release of Devaki and Vasudeva. Frustrated Kamsa asks military help from King Jarasandh of Magadha. Kamsa marries both daughters of Jarasandh. A battalion of Magadha army posted in Mathura. Devaki gives birth to a son. Kamsa brutally kills Devaki's first child. Perturbed over Kamsa's henious crim, King Ugrasena orders his arrest. In a bloody coup, Kamsa captures the palace and arrests Ugrasena. Mathura under seige.

Krishna DVD - Episodes 15 to 21: Kamsa mercilessly kills Devaki's five more children. People await the birth of the Promised One, Lord Shri Krishna. Bhagavan Seshanaga takes the permission of Krisha to be born as His elder brother. By the grace of Shri Krishna, the supreme shakti Yogmaya transmits the foetus of Shesha from Deviki's womb to Rohini's womb. Later, to relieve his devotees from the atricities of Kamsa, Lord Krishna decends himself on the planet earth in the womb of Mother Devaki. On this great spiritual occasion, all the gods in all the different planets of the Universe feel jubilant. Miracles in the jail frighten Kamsa. Lord Krishna reminds Mother Devaki about her previous births. The Lord appears as a child. He is carried to Gokul. Festivities at the birth of Lord Krishna.

Krishna DVD - Episodes 22 to 28: Celebration of Krishna's birth. Kamsa orders mass killing of children. People's suffering. People of Gokula resist the soldiers of Kamsa. Demon queen Putna is sent to kill Krishna. Child Krishna sucks out her life. Salvation of Putna. She gets the honor of mother in Goloka. Kamsa sends demons to kill Krishna. Pundit Shridhar is punished. The Crow Demon is destroyed. The invisible Demon Utkatch is killed. The naming ceremony of child Krishna by Maharshi Garga. Kamsa comes to know about the ceremony. Maharshi Garga tells Vasudeva that Krishna is his son.

Krishna DVD - Episodes 23 to 35: Kamsa threatens Vasudeva and Devaki to tell the truth. Both refuse and are imprisoned again. Kamsa sends the Whirlwind Demon, Trinavarta. Krishna kills him too. Devaki lives in the thoughts of Krishna only. At times, she actually feels Him in her own lap - a mystic experience. Lord Shiva descends on earth. Pays homage to child Krishna. Krishna the "Butter Thief". Lord reveals to His mother the whole universe within His mouth. Krishna uproots two Arjuna trees and releases two sons of Kuvera from curse of sage Narada. Lord Krishna as child performs Leelas with cowherd friends. Mother Yasoda angered by complaints about Krishna stealing butter. Krishna sings and dances to placate her. Radha and Krishna's first meeting as small children on earth.

Krishna - Episodes 36 to 43: Brahma, Narada and other demigods appear and sing the praise of the Divine Couple. Lord Krishna and his friends steal the cloths of the gopis. Lord Krishna kills Bakasura. Kamsa sends the demon Aghasura. Sri Krishna annihilates the demon. Lord Krishna fights the great serpent Kaliya. Kamsa tries to kill Devaki. Seshanaga saves her. Nanda performs Goverdhan Puja on Shri Krishna's advice. Indra becomes revengeful. Indra creates storm and lightening. Sri Krishna lifts Goverdhan Paravat. Sri Krishna Stuti.

Krishna DVD - Episodes 44 to 47: Kamsa is frightened to hear about lifting of Goverdhan Parvat. Sage Narada Muni is insulted. Holi in Barsana - Radha's town.

Krishna DVD - Episodes 54 to 60: Shri Krishna becomes Radha. Radha becomes Shri Krishna. Radha tests gopis' love. Gauri Pooja by Radha and gopis. Maharaas. Kamsa gets nightmares. Kamsa hangs Vasudeva in a well full of venomous snakes.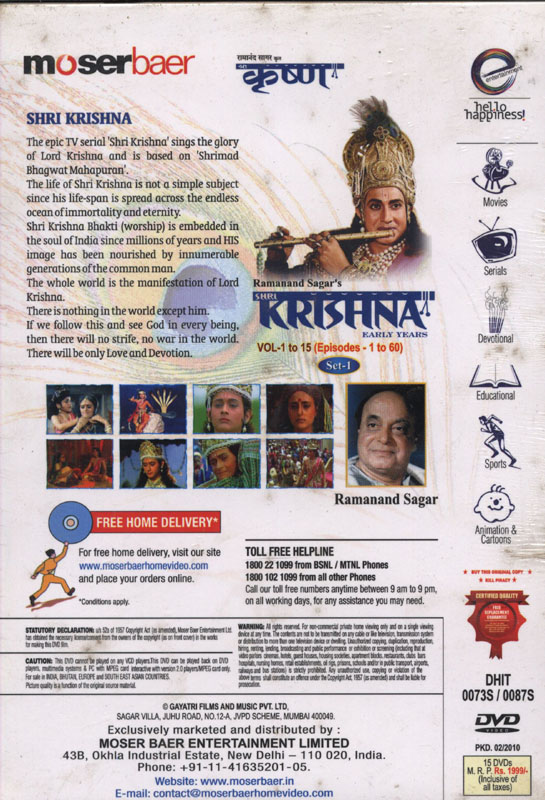 ---
Mini Biography of Dr Ramanand Sagar
Dr. Ramanand Sagar was born as Chandramauli Chopra on December 29, 1917 at Asal Guru Ke, near the city of Lahore, Pakistan (then part of Hindustan).
During the British Rule itself, Ramanand began his film career with a silent movie called "Raiders of the Railroad" (1936). Subsequently, he went on to make, what is now known as a masterpiece, "Aur Insaan Mar Gaya".
Following freedom of India from the British, Ramanand launched his very own production company during the year 1950, calling it the Sagar Art Corporation, and began this by making a movie called "Mehmaan".
Sagar Art Corporation and Ramanand Sagar have to their credit over 50 Hindi movies, including blockbusters such as "Insaniyat", "Ghunghat", "Peghaam", "Aankhen" (1968) "Geet", "Bagavat", "Lalkar", "Kohinoor", "Zindagi", Aarzoo" are just to name a few.
Ramanand created history when he made the television serial "Ramayan", reportedly the longest running serial in India, which featured the life and times of Bhagwan Shri Ram, and his eventual conquest over Lord Ravan and his evil empire in Lanka.
He was presented India's highest Honor "Padamshree", and became known as Padamshree Dr. Ramanand Sagar.
He used to reside in his family home called "Sagar Villa" in Juhu, Bombay. Before that they lived in a flat behind National Hospital in Dadar (West), Bombay.
At the age of 87, Ramanand had not been keeping good health, and unexpectedly passed away on Monday December 11, 2005 in the evening.
His funeral procession consisted of several hundred family, close friends, and Bollywood's actors like Arun Govil, Deepika (who played Ram and Sita respectively in Ramayan), Poonam Dhillon, Bhagyashree, Ravindra Jain, etc.
The funeral pyre was lit and last rites performed by Ramanand's eldest son, Subhash, at the Juhu-Vile Parle Crematorium on the morning of December 12, 2005.
Ramanand is survived by his wife, a daughter, and four sons (Subhash, Moti, Prem, Anand).